Wellsys 9000CT
Compact and High Performance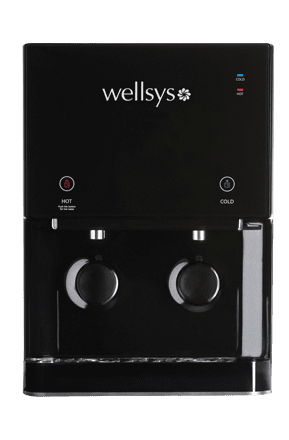 The compact design of the Wellsys 9000CT bottleless water cooler, allows it to fit conveniently on your breakroom tabletop in your office. It uses both touch-activated buttons and 'self-dispense pad' control activation for ultimate user flexibility. The Wellsys 9000CT is designed to fit any of our filter combinations within its shell, giving a clean look. The Wellsys 9000CT includes a self-contained leak detector, an optional BSP Capsule provides continuous in-tank cleaning properties, even when the cooler is not in use.
Dimensions
14.2″W x 15.5″D x 20.5″H
Dispense Height
7″
Weight
50 lbs
Cold Tank Capacity
1.2 Gallons
Hot Tank Capacity
.5 Gallons
Recommended Water Pressure
60-70 PSI
Colors
Black & White
Purification Process
• Sediment Filter
• Pre-Carbon Filter
• Reverse Osmosis (RO)
• Bio-Sure Plus Filter
• Final Polishing Filter
Deciding on a PURE WATER System?
Pure Water Technology of Connecticut has a variety of water and ice coolers that are perfect for any office or home. Let us help you find what is best for you and what meets the needs of your family or coworkers. Contact us for your FREE Trial!